With the rise of Bitcoin, cryptocurrencies have attracted speculative investors around the world, amateur and institutional alike.


Institutions, such as banks, on the other hand, are more interested in blockchain - the underlying technology that powers cryptoassets such as Bitcoin - due to its security, transparency and immutability. While the majority of consortia and institutions focus on developing blockchain solutions for the financial purposes, the types of transactions that blockchain enable can extend far beyond banks.

With Japanese telecommunications giant SoftBank dedicating $100 billion in its Vision Fund to invest in data companies, it comes as no surprise that it was a matter of time before someone combined the breakthrough technology of blockchain with the ever-developing field of data.


In theory, building a marketplace for data on blockchain sounds like a perfect application. Data, like cryptoassets (e.g. bitcoin, ether), is inherently a digital asset, which is what the blockchain is mostly used for. Blockchain's extreme difficulty - some would say impossibility given available commercial technology - for malicious actors to hack is also instrumental to protecting data that is private.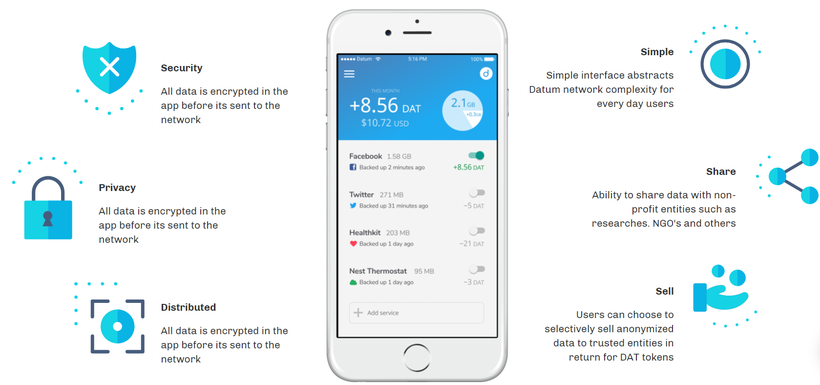 Datum is a cryptocurrency startup that has decided to bring this concept to life - by letting you sell your data for money on a marketplace run on the blockchain.


The saying goes, "if you are not paying for a product, then you are the product". It's no longer news that tech giants are already collecting data about you to sell targeted advertisements. Currently, Google and Facebook are some of the major data resellers, but neither platform ever compensates users for profiting off their personal information (besides providing access to their services, of course).


The Datum team is aiming to give give users control over their own data by building a platform whereby anyone can create an account, upload various aspects of their data, and receive monthly compensation from companies. Due to the encryption and privacy enabled by blockchain, users can share and sell their personal data on the marketplace, and Datum projects that if users can earn about $2,000 extra per year from passively selling personal data.


Like all new ventures, whether Datum can successfully pull off the vision of a secure data marketplace is subject to many variables (e.g. regulation, adoption, financing…). Uncertainty is compounded by the fact that most of our personal data today is already in the hands of corporations whose products we happily signed up for (e.g. Google, Facebook, Netflix, Spotify etc.), and regaining ownership from those corporations is unlikely.



However, there is no telling what the future of personal data for platforms that have yet to even emerge will look like, and the public seems to be enticed by Datum's vision as well. According to their CEO, Roger Haenni, support for Datum's ambitions has been building up. According to their website, Datum has over 56,000 registered users, and has raised $1.5 million in total so far.


Part of the growing support for Datum could be due to the fact that it sits at the crossroads of multiple fields that are poised to define the coming decade.


In the growing Internet of Things (IoT) movement, the best device use cases require massive amounts of data in order to optimize algorithms for everyday use. In turn, the more input you give your wearable devices like the Apple Watch and FitBit, or tour home devices like Google's Nest thermostat and Amazon's Alexa, the better they understand and serve you. With more smart devices comes more ways to collect your personal data, and therein lies one of the markets that companies like Datum can profoundly influence.


Ultimately, Datum's ambition is to give users a way to take control of all data collected on them.


While the cryptoasset and blockchain space is still a developing field with massive room for trial-and-error, expansion and development, its ability to connect networks in a secure manner provide countless possibilities for data collaboration.


Whether it is Datum's data marketplace or another data solution, the future of blockchain lies might very well lie in the ability to connect and implement a network's data.